Those of us who love every inch of the Pennypack Trust, and that's a lot of us, had our eyes opened when Hurricane Ida swept through this region. There were places along Pennypack Creek where nature flexed her muscles and showed us how vulnerable our trails and paths can be.
Creek Trail, what we used to call Creek Road, was no exception. Unleashed by the waters of Ida, Pennypack Creek swept much of the trail away. Seemingly overnight, a key artery that connects hikers and other outdoor lovers to much of the Trust was rendered impassable.
Ida demonstrated emphatically the trail's vulnerability. But it faces challenges in every year and every season. In the past, other storms have damaged it, and drainage from the higher elevations of the Trust scour it regularly.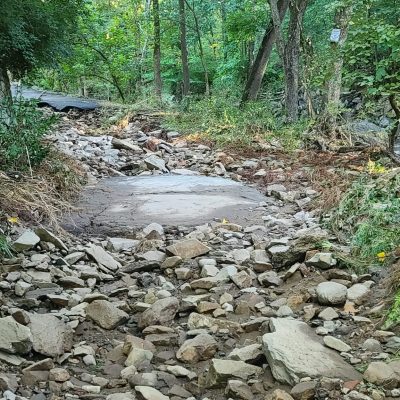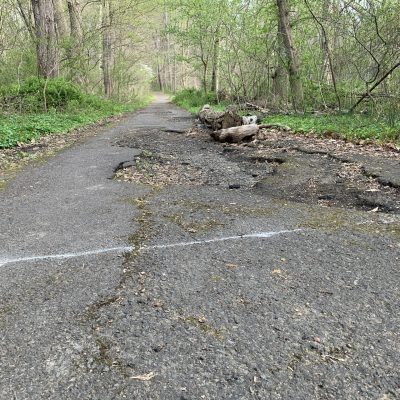 When it's intact, it offers some of the best hiking in the Trust. It's at an easy grade, very family friendly, and connects users to other trails within the Trust, in addition to Crossroads Marsh, beloved by birders and fans of our local beavers.
How often have many of us had a chance to make new friends and greet old ones as we've ambled along Creek Trail? It also functions as a key passageway for Trust employees, who use it to transport people and materials to areas of the Trust in need of maintenance.
To know the trail is to love it. To love it is to also accept that unless we take action, it will again be heavily damaged by storms. It's not a question of whether that will happen again, only a question of when.
Experimentation and Adaptation
Through years of observation, we've noted that floods in certain pinch points along the Creek are able to move large rocks, sheets of asphalt, and excavate cubic yards of soil as easily as the hand of a child sweeping away a stack of Legos. But we've also seen that stones about the size of traditional cobblestones are too large for the creek to move, in certain locations.
Given a solid base and set correctly in mortar, the right pattern of cobblestones can withstand heavy flooding, while open joints can convey crossing flows from the draining valley slopes. We're experimenting with sections where decaying roadbed is being eroded by crossing drainage to see what combination of cobblestones, concrete, and dry-laid retaining walls can cost-effectively reinforce the trail, keeping it and our visitors safer. This effort is entirely home-grown, using design and construction skills from staff and local contractors who understand how to dovetail the nuances of the environment with the craft of construction.
As the mental stressors of the Covid shutdown taught us, we need the Trust. And we need Creek Trail to serve, as it does, as the backbone of the Trust. It's just as true that the Trust and the Trail need us. We estimate that it will take $40,000 to strengthen Creek Trail in the ways we envision. Please join your friends and neighbors in contributing to this effort. It's our hope that by this time next year, children, grandparents, horseback riders, dog walkers, and cyclists alike will be able to enjoy the heart of the Pennypack Trust without having to navigate the erosion that threatens it.