BALD EAGLES NESTING FOR THIRD YEAR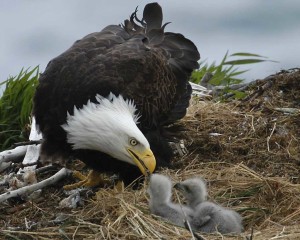 The pair of Bald Eagles that nested successfully in the Pennypack Preserve during the last two years has returned for a third spring of breeding.  A remote "eagle cam" is trained on the nest and offers both live video feed and selected still images.  Two links for the camera: http://potapov-nature.com/pipipi/ or http://baldeaglenest.brynathyn.edu:8080/eagle-cam.jpg.
  20 MORE ACRES PROTECTED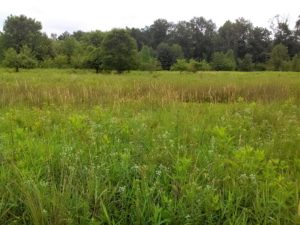 On May 16, a Huntingdon Valley resident granted a conservation  easement to the Pennypack Trust, giving the Trust oversight authority on 20 acres of land in the floodplain of Huntingdon Valley Creek.  The beautiful property contains broad paths winding through meadows, woodlands, and marshy areas as well as a few hundred feet of Huntingdon Valley Creek.  The landowner and his heirs will continue to own and maintain the property; the Trust will be  responsible for monitoring the easement once annually to ensure that the natural landscape remains undisturbed.  The land is not open to the public, but it does safeguard the views from two local roadways.
With this generous donation, the Pennypack Trust now has oversight authority (either through direct fee simple ownership or responsibility for managing easements) on 832 acres.
SNOW DAMPENS THE GROUND BUT NOT THE SPIRITS OF CLEANUP VOLUNTEERS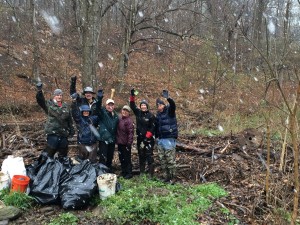 Big, wet snowflakes may have dampened the ground and the volunteers' raincoats, but Saturday's annual creek cleanup (April 9, 2016) was a big success nonetheless. About 60 hearty volunteers turned out in the damp chill to scour the Pennypack's banks for trash. Some folks gathered trash from Round Meadow Run flowing through Veterans' Memorial and Terwood Parks in Willow Grove, but most volunteers worked in the Pennypack Preserve. Pictured here is the group that ventured out onto the island opposite the Creek Road Trail just upstream of the Papermill Bridge to collect debris washed in from upstream, including a mannequin's arm!
Bald Eagles Return for Second Year
The pair of Bald Eagles that successfully fledged two eaglets in the preserve last year returned to their nest on January 26 for a second attempt at raising young.  Each adult eagle takes a turn sitting on the nest, allowing its mate to forage for food.  Experts believe that the birds are now feeding young, but the nest is so deep that it's impossible to confirm the hatching.  Bryn Athyn College has a live-feed video camera trained on the nest, so everyone can observe the birds' activities by logging onto http://brynathynonline.org:8080/eagle-cam.jpg during daylight hours.
PHOTOGRAPHY EXHIBIT at Orchard Artworks Gallery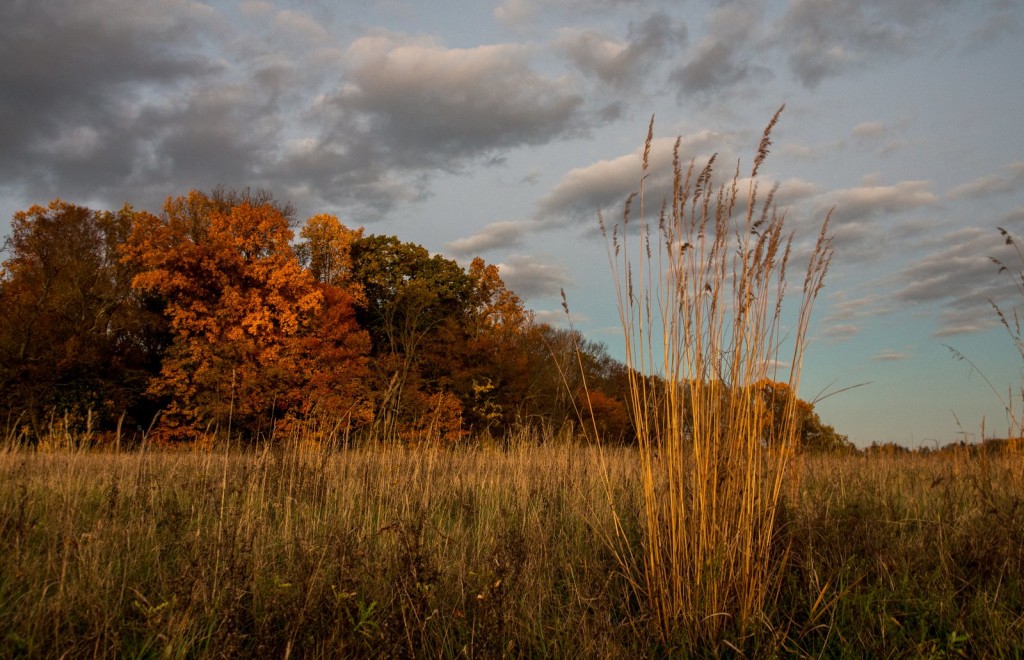 The winners of the 2015 Pennypack Photo Contest will be displaying their pictures at the Orchard Arworks Gallery from April 3- 22, 2016. There will be a wine and cheese opening reception on Sunday, April 3, from 1 – 4 p.m.
Featured photographers:  Karen Appel, Igor Danilov, Peter Gkonos, Jan Goltz, Mikayla Hesdon, Ed Higgins, David Lamb, Alison Larsen, Mariann O'Connor, Kevin Roth, Dan Sneberger and Sam Wolf
Orchard Artworks Gallery is located at 520 Tomlinson Road, Bryn Athyn, PA  19009             Hours:  Friday & Saturday 10 a.m. – 4 p.m.; Sunday 1 – 4 p.m.                                     orchardartworks.org
---
PRIMORDIAL LANDSCAPES Iceland Revealed by Feodor Pitcairn available at Pennypack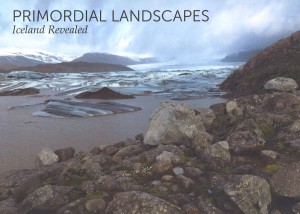 PRIMORDIAL LANDSCAPES Iceland Revealed by Feodor Pitcairn available at Pennypack
Pennypack's founder Feodor Pitcairn has completed a book featuring his dramatic images of Iceland to accompany a show at the Smithsonian Institution's National Museum of Natural History in Washington, DC that will be on exhibit through spring 2017.  Autographed copies of the book are available at the Trust.  $45 (plus tax) for members; $50 (plus tax) for non-members.
---

Major Papermill Bridge Restoration Completed
Papermill Bridge, spanning Pennypack Creek in the lower third of the preserve, is a critical link in the Trust's 11-mile trail network. It connects the Trust's lands and trails on the east side of the creek with those on the west, and is essential for stewardship activities. Read more
---