PENNYPACK TRUST PROTECTS IMPORTANT  WOODLAND

On February 21, 2017, the Trust purchased an important, 5-acre woodland in Bryn Athyn and added it to the Pennypack Preserve.  This forested tract along Paper Mill Road near Cathedral Road is ecologically significant because it expands and buffers Papermill Woods, the largest block of intact forest in the preserve.  It safeguards breeding habitat for declining birds that need deep, sheltered forest like Scarlet Tanagers, Wood Thrushes, and Ovenbirds (pictured here).  The preserve now encompasses 828 acres.
BALD EAGLES MAY NEST FOR FOURTH YEAR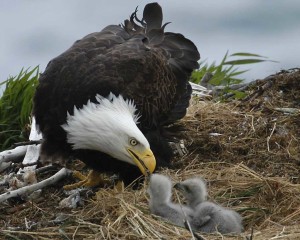 The pair of Bald Eagles that nested successfully in the Pennypack Preserve during the last three years has been perching near the nest again recently.  The Trust hopes this is a sign of a fourth straight spring of breeding.  A remote "eagle cam" will be trained on the nest when breeding gets underway and will offer both live video feed and selected still images.  Two links for the camera (when activated): http://potapov-nature.com/pipipi/ or http://baldeaglenest.brynathyn.edu:8080/eagle-cam.jpg.