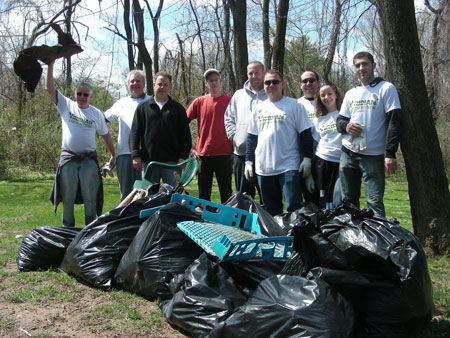 We couldn't have ordered-up a better day for the 43rd Annual Pennypack Creek Cleanup on Saturday, April 13, 2013. Showers on Friday failed to produce enough rain to raise the level of the Pennypack, and Saturday dawned mostly sunny and pleasantly cool. For the two hours before noon, about 95 volunteers combed the banks of the Pennypack and several of its larger tributaries, searching for anything that storms and human carelessness had washed into the streams and floodplains. After retrieving thousands of plastic bottles, aluminum cans, shopping bags, tires, children's toys, lip balm tubes, and just about everything else imaginable, the volunteers returned to the Trust's headquarters to enjoy lunch provided by Whole Foods Market Jenkintown and to pick up a commemorative t-shirt.
The Pennypack Trust extends special thanks to our partner in this annual event, Upper Moreland Township, which collects and disposes of much of the trash gathered by our volunteers.
This year's cleanup was sponsored by Giroud Tree and Lawn, MLCS Woodworking, Susquehanna Bank, and Whole Foods Market Jenkintown.
The following local businesses also provided support for the event: Bickel & Scena General Contractors; BLue – A hair studio; Carr and Duff, Inc.; DeMarco Land Clearing & Tree Service; Rems Automotive; Star Lawn Mower; The Fredericks Company; and Vaporfoxxe.